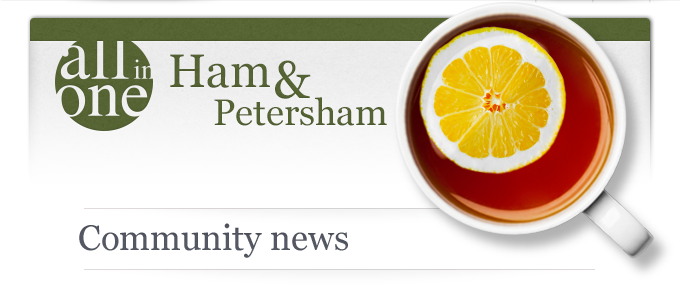 Merry Christmas – From Lord True

As we come to the end of 2013, Richmond Council would like to wish all residents a merry Christmas and a happy New Year, we hope you enjoy the seasonal events around the borough, many of which the Council has contributed towards. Lord True has recorded a special message, highlighting the achievements over the past 12 months.

Next Neighbourhood Forum forum meeting

The first neighbourhood forum in Richmond has been agreed for Ham and Petersham by the Council. Over 100 residents attended a very successful second meeting in September where groups discussed 13 topics and produced hundreds of ideas for the draft. neighbourhood plan.
The next forum meeting is on Tuesday 10 December 7.30pm in Grey Court School hall.

New all in one Richmond Card – coming soon!

Richmond Council will shortly be launching the new Richmond Card. This new resident card combines the local parking discount card, library and leisure cards. It will also enable you to benefit from exclusive offers and discounts around the borough – and get up to 30 minutes free parking. Over the next few weeks, all those with a Richmond Card will automatically receive their new card.

Ham Library is temporary home to top UK dancer

Thanks to a £60 grant, Ham Library has been home to Seke Chimutengwende over the past two months. The UK choreographer worked with the community to bring dance to an accessible venue, whilst encouraging new people to join their local library. Seke designed special dances, inspired by the location.

Fix a pothole or pavement in your local area

Nearly half a million pounds is available again this year to repair streets and footpaths nominated by you. £35,000 is up for grabs in each village and it's easy to make an application.
If you know a footpath or road that needs to be repaired, make your nomination before the 13 December.

A music hub for Ham

Ham Youth Centre has started an exciting new music project for local young people funded by Youth Music. The centre's studio is open four evenings a week and also works with schools during the day. It offers tuition in rock instruments, rapping, singing, music production, studio recording and loads more, all for free! To book please contact Ben Skelton.

No day centre will be closing

The Council has confirmed that it has no intention of closing Elleray, Linden Hall or Barnes Green day centres. As part of the Council's plans for a Community Independent Living scheme, there have been a number of rumours that the three would close. Earlier last month, Cllr Marlow put those rumours to bed and reassured residents that this isn't the case.

Calling all makers

Kingston MakerLabs now has a space in Ham, thanks to the Ham United Group. The Kingston MakerLabs network is interested in electronics, computers, biology, digital art and related activities. The group share skills and knowledge for the benefit of the community. An example is by providing an IT problem-solving drop-in in Ham. They are looking for new members and community challenges!

Sixth form blocks under starters orders

Work on all of the five projects in the Council's programme to build new state-of-the-art sixth form facilities at secondary schools have now begun across the borough. Construction staff had already arrived on site at Waldegrave School at the start of the autumn term to start work on the dedicated sixth form building. Building work has also now begun at Christ's, Grey Court, Orleans Park and Teddington schools. They will all open in September 2014.

St Richard's community candlelit service

St Richard's CE Primary School and Church are hosting a Community Carols by Candlelight Service on 17 December at 6.30pm. Everyone is welcome, however the service is not suitable for under-5s. Canapés and mulled wine will be served after the service in the school hall.

Get your local charity Christmas cards now

Stepping on Out is a local charity that gives adults with a learning disability the opportunity to design, produce and sell cards and related products. Based at 7 The Causeway, Teddington, the shop is open Monday, Wednesday and Friday from 10.00am to 4.00pm. Please call 020 8977 8042 before visiting on other days.

Ham library refurbishment completed

Library users will be uplifted to hear that a £146,000 revamp of Ham Library has been completed. The six-week transformation of the library in Ham Street is part of the Council's Uplift programme which aims to rejuvenate the village.

Join Nature's Gym!

Improve your health and wellbeing by taking part in conservation activities across the borough. Nature's Gym is free and fun – and no experience is needed! It is open to all and families are encouraged to come along. For more information, please have a look at the website to see where and when our sessions are.

Twice lock it or lose it

Bicycle theft continues to be a problem in Ham and Petersham, and with the darker nights closing in, residents are reminded of the importance of investing in good quality cycle locks. Two different types of locks are recommended in order to deter thieves and make them think twice. For more advice on avoiding cycle theft please visit the Council's website.

Feel Good Fitness - Join now offer

Join now and pay nothing until 28 January. The offer is valid from 15 November to 30 December 2013 and the 'no contracts' membership offers free fitness classes and swimming. And, if you're not happy, we'll refund your money with our 10 day money back guarantee. Joining a gym never felt this good!

Free training course for parents

Are you a parent with free time after Christmas? Home-Start Richmond offers free training to become a volunteer in supporting families with difficulties. Training will run on Thursdays in school hours from 9 January to 27 March 2014. After training, you would visit a family for two to three hours a week. Contact Angie Ahmed 020 8487 8500 for more information. info@homestart-richmond.org.uk.

Volunteers wanted for dementia friendly community service

Volunteers are needed to assist borough residents who have dementia or Alzheimer's to continue with their hobbies and interests and to be actively involved in their community.
The volunteer opportunities include hands-on support, admin support and event organisation. If you think you can volunteer, please get in touch.

Don't let Santa Catch a cold this Christmas

It's Christmas Eve and Santa has one present and two more houses to visit...which to choose? "Easy", says Santa, "the warm house that has benefited from a Coldbuster grant". Santa knows the insulation and heating systems offered will keep him warm.
Let Coldbusters keep you warm this Christmas and for years to come. Call 0800 358 6668 for more information.

Autism – not just for Christmas but for life

Resources for Autism supports children and adults with autism. In west London the main focus is to provide excellent care at home and in the community to those with autism. Demand for the service is high and throughout December they are targeting west London for volunteers and paid staff. They will train the right people, not just for Christmas but for life!

Don't miss your chance to vote

If you have recently moved into the borough please ensure that you are registered to vote in the local and European elections on 22 May 2014 from your new address. For more information visit our website or phone 020 8891 7775 for a form.
Join Healthwatch Richmond!

Would you like to have your say in the way health and social care services are run in and around Richmond upon Thames? Do you have any experiences of these services to share? If so, please get in touch with us. Healthwatch Richmond is the new consumer champion for health and social care in the borough.

Trustees sought by local environmental charity

SWLEN, a local charity which supports environmental groups and projects is looking for new trustees to join its board, including:

A treasurer to oversee finances and report to the board (a paid bookkeeper manages all data entry and payments)
Local people who have knowledge of environmental issues and concerns and/or knowledge and experience of the voluntary sector

Competitions for pianists

Competitions are running for pianists of all ages at Kew Community Centre, The Avenue, Richmond, TW9 2AJ on the first two weekends in March 2014. All performers will receive a verbal assessment and a written report from adjudicator Susan Clark. Medals, trophies and cash prizes can be won. Entries close 21 January 2014 and forms are available from the website.

Specialist foster carers - helping young people who need it

Do you have experience of working with challenging young people? If so, a career in fostering could be the next step.
You will need a spare bedroom, at least one year's experience of caring for children aged 10 to 18 and not have children under 10 living with you.
You will receive supervision, training and access to multi-agency support.
Over Christmas we generate around 30% more waste and most of this can be recycled. All your wrapping paper, Christmas cards, wine bottles, glass jars, plastic bottles, tubs, pots and trays, foil, tins and cans and drinks cartons can all be recycled.

Did you know:

A massive one billion Christmas cards are sent across the UK and could end up in bins
Around 25,000 hectares of Christmas trees are currently growing
A whopping 10 million turkeys will be sold in the UK, weighing a massive 55,000 tonnes

All the above can be recycled and the food turned into compost. Make sure that you know all about the changes to your recycling and rubbish collections this Christmas - including the dates when we will pick up your tree after the big day.

We want everyone to enjoy themselves over the festive period without their fun being spoilt by crime. The Council and Police are doing their bit but are you? Remember:

Keep your purchases out of sight – if they can be seen, they can be stolen
Take all your valuables with you when you leave your car – the glove compartment is one of the first places a thief will look. At home, make sure all your doors and windows are secure; leave a light on.
Security mark valuable Christmas gifts before you wrap them
Don't leave Christmas gifts in garages or sheds
If your Christmas tree is in a window – don't put any presents around it before Christmas morning.